"You never give me your money, you only give me your funny paper..."
by Stephanie Feagan
I usually have some burr in my blanket, whereupon I pull out my soapbox and rant about whatever that burr happens to be. Today, I'm in Chill Out mode, and getting all hot and bothered about any one topic is, well, just not gonna happen. I'll save the world next month. Today, it's Random Thoughts Day here in Feagan Land. It's also Groundhog Day, so go feed a groundhog. Also my grandmother's birthday, God rest her soul.
Speaking of, she was forever asking, "Where's my purse?
Where's my
purse?
" It was usually in her lap when she asked. That line has become the stuff of legend in our family. We're known to suddenly, without provocation, start yelling, "Where's my purse?
Where's my purse
?" I still shame Mom and Aunt Glenda for failing to bury Grandma with her beloved purse. I imagine her in heaven, making poor God crazy, asking about her purse, which she'll never find because Mom and Aunt Glenda didn't send it with her. Maybe God made her a new one. And attached it to her arm, so she'll never, ever, for all eternity, lose sight of it. For God's sake, I hope so.
Baby Girl called last night. So did Number One Daughter. Both of them having assorted life crises which they wanted to discuss in infinite detail. I'd planned to go to bed before 1 a.m. for the first time in at least a month. Turned out, I got to bed at 2:30 a.m. Maybe tonight.
Baby Girl mentioned a psych lecture her boyfriend had, and the professor quizzed them on their anger levels. One of the questions was, when you're in the Express Lane at the grocery, do you count other people's items to see if they exceed the limit? The Boyfriend said no. Baby Girl said yes. He asked her if she would confront the offending man with eleven items, instead of ten. She said no, to which he asked, then why would you count the items? Her response: It's the principle of the thing.
I've had a department store gift card sitting on my desk for several months. It's an old one, a graduation gift to Baby Girl. She used it to buy something, but can't recall if it has any balance left on it. I thought I'd take it and find out, but here it sits. Check back with me next December, and ten to one, it'll still be right here. If it was a Starbucks card, I'd have checked ten minutes after finding it. I love Starbucks, sometimes more than I love my cat, but it's a vaguely guilty sort of love. Wretched excess to pay $3.41 for a cuppa Joe. Of course, the damn cat is wretched excess. But try telling him that.
I recently drove to Nashville to give a speech about taxes and writers to the Music City Romance Writers group. I said Road Trip and Mom and Aunt Glenda said, "We're in!" They may have regretted the decision because I made them stop all along Interstate 40, whenever I spotted a Waffle House. I love coffee. A lot. And next to Dunkin' Donuts, Waffle House has the best coffee in the universe. If I die and go to heaven, I'm certain God will serve Waffle House coffee. I'll have some with Grandma, who can pay for it out of her new purse.
Outside the Waffle House in Hot Springs, Arkansas, I got a call on my cell phone from my agent. Silhouette Bombshell bought my fourth book. It's titled BLOWOUT and it's about a petroleum engineer who puts out oil well fires. I was so excited, I had Aunt Glenda hold my coffee while I got out of the car and jumped up and down and squealed with glee. Those waitresses inside Waffle House probably thought I was really excited about the coffee. I was. But I don't typically jump up and down and squeal with joy about the coffee. Well, maybe on the inside.
My husband recently bought a new car, a Toyota 4-Runner. When he picked it up, they took his picture beside the car. Later, they mailed him a calendar and his picture is on it. There's an order form to purchase additional calendars. Contact me for yours. I'll get right on that.
Being CPAs, Mom and I have to prepare 1099s and W-2s for some of our clients. The IRS insists that all 1099s and W-2s have to be filed on their forms, which have red print. We can't print them off the computer like all the other myriad forms. No, no. They have to be
special
forms. So Mom goes to the IRS office in Dallas, her list in hand of how many she needs. She takes a number, which is 943. The guy next to her has number 297. The lady after her gets number 342. Yes, that's right. The IRS can't even figure out a freakin' numbering system. They actually managed to screw that up. Evidently, they don't really use the numbers. The IRS lady just yells, "Next!" and everyone scrambles to be next.
After waiting eons for her turn, Mom tells the lady, "I need 26 of Form 1096."
The lady says, "You can only have 3."
Mom says, "But I need 26."
The lady says, "It's the rule. You can only have 3. If you need more, you'll have to go somewhere else."
Mom says, "Whatdya mean, go somewhere else? This is where we get Form 1096!"
IRS lady says, "You can come back tomorrow and get 3 more."
Mom says, "Are you
%$#&ing
kidding me? You people are insane!"
IRS Lady: "Next!"
Anyone ever see Eddie Murphy do Gumby on Saturday Night Live? "I'm Gumby, dammit!" Number One Daughter drew me a picture before I went to the RWA conference in New York in 2003.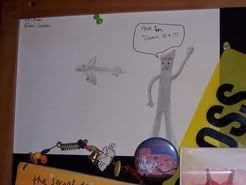 It hangs on my bulletin board beside my desk, and you know, it still makes me laugh. In case you can't read the lousy upload of the photo, it says, "Have fun, Damn It!!!!" Yes, I taught my children to cuss. Monkey see, monkey do. Does it help to know that she was 18 when she drew this picture?
My girls hate Peeps. This bothers me, because, you know, Peeps have something for every single holiday. I don't actually care that they don't like them. I faithfully buy a box for every care package I send. Nothing says, "I care," like a box of Peeps. Wonder if they have Groundhog Day Peeps? If it sees its shadow, we'll have six more weeks of high blood sugar.
Mike bought me an iPod for Christmas and I may love it as much as Waffle House coffee and the Catman. I've got what I consider an eclectic mix of music on it. Def Leppard, anyone? AC/DC? Dan Fogelberg? The Beatles? Willie Nelson? The Eagles? Firefall? Coldplay? Goo Goo Dolls? Maybe some Asleep At The Wheel? How about Jackson Browne, Van Halen, Sheryl Crow and Aerosmith and Journey and The Outlaws and Mozart? Tom Petty? Counting Crows? Stevie Ray Vaughn? I have to stop now. I think I'm getting turned on.
I also need to go pay my bills. I have to find my checkbook first, however. Where's my purse?
Where's my purse?