Nostalgic Reads
by Colleen Gleason
A few weeks ago when the Wet Noodle Posse was putting together our
Top Ten Faves
for February (best lines by a hero in a book or movie), our discussion somehow expanded to our favorite book and movie heroes, then our favorite book and movie heroes of our youth, and then our favorite reads of our youth.
Aha! I thought. A great blog topic.
Of course many of us had read the same books: Nancy Drew, Trixie Belden (my favorite), Anne of Green Gables, the Little House books, etc. But there were lots of favorites that many of us hadn't heard of. So I'm going to list a few of mine and I'll be interested in knowing whether anyone else out there read them....
The Three Investigators series, starring Jupiter Jones, Pete Crenshaw and Bob Andrews. The original Scooby gang--but without the girls. More fun than the Hardy Boys by far! Their
clubhouse was hidden in a junkyard and could only be entered by following cryptic messages, like "Green Gate One" (which meant to enter through the secret door in the part of a fence that was painted green).
These three guys had business cards that said "The Three Investigators: We investigate anything." The mysteries were clever, and even now, as I am reading them to my younger children, I find them intriguing.
Alas, the books are now out of print. The only place you can find them is on eBay, or you can head over to
Seth Smolinske's Web site
and see what he has for sale.
I also enjoyed
The Mad Scientists Club
, written by Bertrand R. Brinley, and its follow-up,
The New Adventures of the Mad Scientists Club
. These were stories about a club of boys--probably six or seven of them--who had a great time playing pranks on people and on their town.
One of the first stories was about the Monster on Strawberry Lake. They decided to make the legend come to life and used a canvas-covered motorboat to create a Loch-Ness kind of monster. Unfortunately, it worked all too well, and the city called in the Navy to help find out what was going on!
These collections of stories were out of print until
Purple House Press
(a small press that specializes in bringing nostalgic children's books back into print) rereleased them in hardcover with great dustjackets. I own the new reprints, and also a third one, which had never been released originally.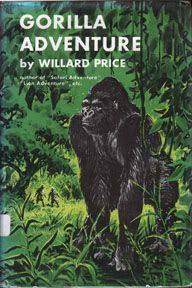 I've never met anyone else who read the Willard Price books.
Cannibal Adventure, Amazon Adventure, Safari Adventure, Gorilla
Adventure
, etc. They were published in England, I think, and are about two boys whose father is a zoologist.
They go on trips with him and there is always some kind of mystery to solve, and a lot of information about animals and the environment in which the story takes place. I read these books over and over again. I've been able to find a few of them on eBay...but I'm still looking for a hardcover version of
Cannibal Adventure
.
I did read some girly books too!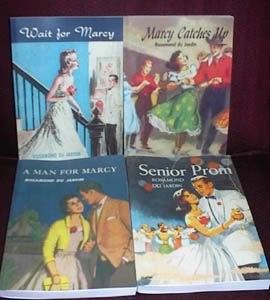 My mom got me into Rosamund du Jardin's books (set in the '50s; a little before my time, but, then I was a
Grease
fan too!). Anyone else remember those? They are now being reprinted by a different small press called
Image Cascade
. I read all the Tobey & Midge Heydon series, and the Marcy Rhodes series.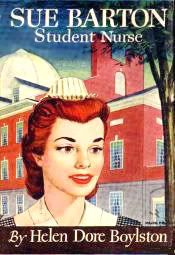 And then there were the Sue Barton nurse books! I loved those, because she had red hair like I always wanted to have. And she always had such hot guys after her! There were mysteries galore, and we learned a lot more about nursing then we did with the Cherry Ames series (which I read too).
Finally, what about Phyllis A. Whitney's young adult books? My very favorite was
Step to the Music
. The classic romance set during the Civil War, in which the heroine falls in love with the charming younger brother, who goes off to fight for the South...but eventually learns that the older, more gruff and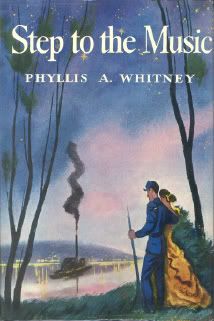 brooding one, who enlists in the Yankee Army, is really the one for her.
Sigh. I think I'm going to have to hit eBay again to find some of these older reads. They are worth enjoying again as an adult!
I'm interested to hear about any other books you loved when you were younger. And if anyone has a hard cover copy of
Cannibal Adventure
, you know where to find me!