Any other name...(or, why can't I think of clever titles like Janet??)
One of my favorite tasks when I start a new story is coming up with character names. Now, I am a complete pantser, so finding their names is, well, a pretty good chunk of my preplanning. But more goes into it than finding a name I like. Of course it has to be a name I LIKE (and that I don't mind typing over and over again, so I choose short names like Seth, Gabe, Noah, Alex), but it has to tell something about the character.
I make a list of names I like, then think about what I know about the character. Because I wasn't the only one who picked out their name, their parents did, too. So what kind of parents would pick out a name like Peyton, the heroine in Hot Shot? It's an unusual name so I wanted to give good motivation for her having it. It turned out that she's from a wealthy family and Peyton is her mother's family name. That bit of information formed who she is.
Lavender, the heroine in my Wayback Rodeo-targeted story, is the child of a free-thinking, artistic woman who doesn't like to put down roots. Lavender rebels against that lifestyle. But it was her name that gave me that clue to her background and to her conflict.
It would be fun to go against type and make an Emma or and Eleanor a wild child, and make a Tiffany or Britney very sedate, wouldn't it?
Other things come into play when choosing a name. The age of my character, for one. I'm reading a book right now with a contemporary heroine around my age whose name is June. As much as I enjoy the book, I get pulled out of the story by the old-fashioned name. Now, if I knew why the author gave her that name, if the author made that part of the story, it wouldn't bother me. I would imagine a historical writer would have to be much more cautious when choosing a character name.
Location and ethnicity play a part. That doesn't mean Southern characters should be Billy Bob or Mary Jane (remember Susan Elizabeth's Phillip's Bobby Tom? That name drove me insane, BTW. No flow at all!), but some names fit some regions better. And if you have a character named Sonia, in Texas she'd spell it with an I and in Minnesota, she might spell it with a J. I have named a 20-something Hispanic hero Seth, which is…not common, and a 30-something Hispanic heroine Jordan, which really doesn't fit, but I also had a 20-something hero named Hondo, short for Alejandro. I stole the nickname from one of my students, and it's still one of my favorite character names.
Pronouncability (pronouncibility?) is important, too. I think it was Nora's last book in the circle trilogy…I stumbled over the hero's name every time, even with a pronunciation guide. Those Irish names are tough ☺ Sometimes it is just the right name, but be kind to your reader and clue us in. Maybe have the character say something like, "Rhymes with…" when another character has difficulty with it.
I also like to consider how the hero and heroine's names sound together. Luke and Kelly – good. Noah and Ellie – also good (and rhyming!) Seth and Lauren – good. Taylor and Lavender…meh. But each name has a story of its own.
What if you pick a long name for your character? Do you know how to make shortcuts on your word processing program so you don't have to type Genevieve or Alejandro over and over? I have Word, and this is how you do it.
Go to tools.
Go to auto correct.
Type in an abbreviation that won't come up often when you're writing. For example, for Gabrielle, I typed Gb.
Hit okay.
Now, every time I type Gb, it will come up Gabrielle. Cool, huh? Saves a few keystrokes.
Where do you get your character names? I had an old baby name book, but when I was brainstorming my Wayback Rodeo story, I was at school and borrowed my friend Cindi's book. (She has it in class because the kids get a kick out of discovering the origin of their names.)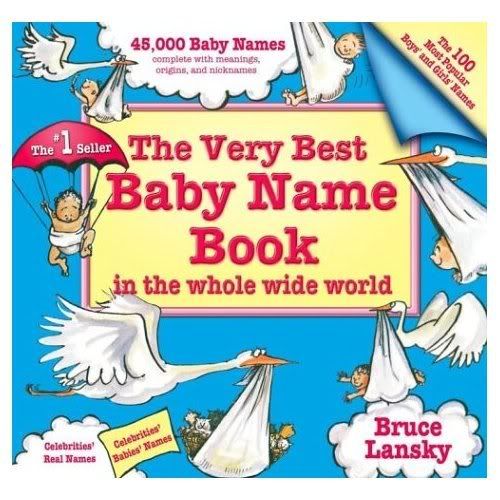 It even has celebrities' real names, if you're looking for a way to procrastinate ;)
Another neat place (if you don't look at the subject headings) is your spam folder. There are some cool names there.
And there are a ton of websites, some easier to maneuver than others.
How do you choose your character names?