Managing Promotional Loops
I have been published three months now and I'm still feeling my way around the promotion end. This summer, I've been trying out different email loops that promote books. That can be extremely overwhelming (sometimes 500 posts a day on all the loops combined!) So I'm working out a system.
First, I joined this yahoo loop:
Promotion Loop Schedule
. This group sends daily reminders of which loops accept excerpts and other promo and on which days.
There are a LOT of loops. And you have to join them. And sometimes you have to tell them why you're joining. And they all have different rules. However, some of them have databases where you can upload excerpts and book covers and links to your websites. Some of them have author days where you can promote yourself, or get together with friends. So far I've only done this on publisher days because I'm shy ;)
Then I got my royalty statements and figured I needed to do some more promoting. I looked at the rules for the different loops again and made myself a chart about which loops take excerpts which days. My chart looks like this: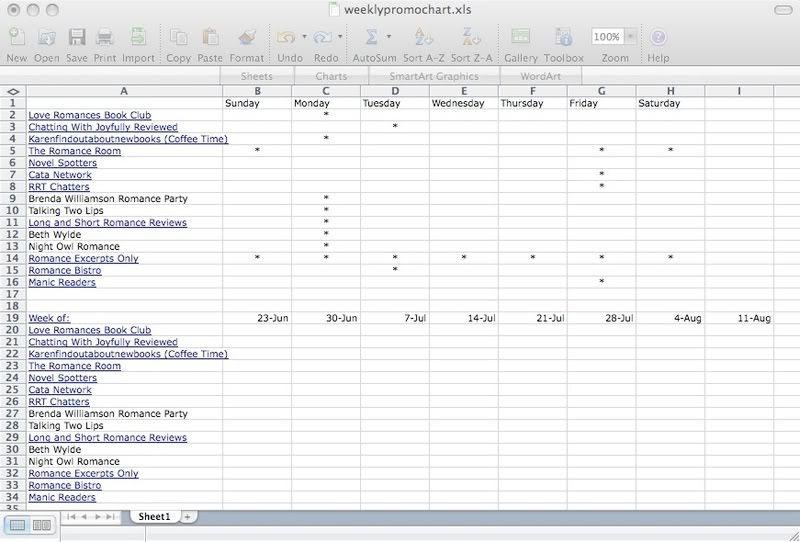 What I need to do next is figure out which excerpts to post when, so I'm not being TOO repetitive. I have three excerpts for each book, a romantic one, a sexual tension one and an action one. My books are fairly long. I probably will only have two excerpts for my Wayback Rodeo book.
If you'd like a copy of my chart, you can get it here:
Weekly Promo Chart
.
And if you have any suggestions on how to improve it, I would love to hear!
Labels: book promotion