The Golden Heart – You Have Nothing to Lose but Money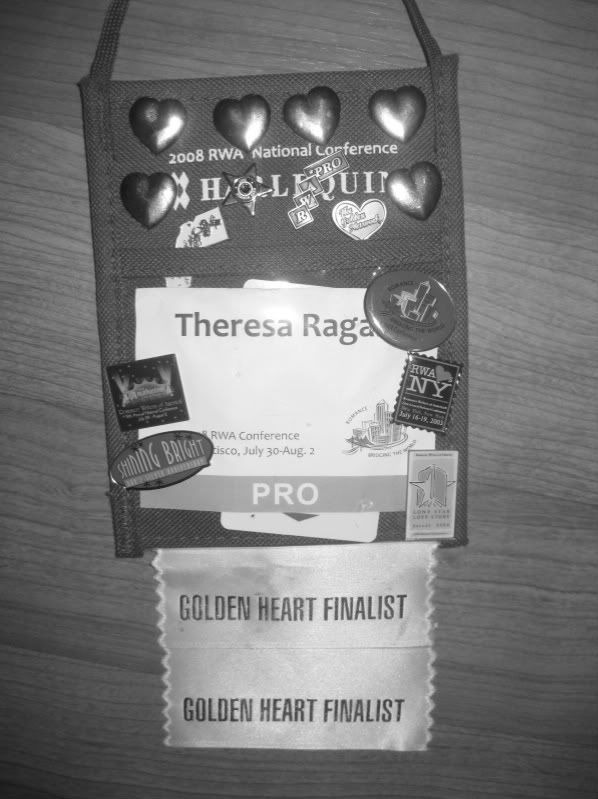 It's only money! I'm teasing, of course. Believe me, you're not the only one feeling the recent economy crunch. I haven't entered the 2009 Golden Heart yet because I am still pinching pennies and saving up. But if you can manage and you really think your book is ready for the big time then you don't want to miss entering the RWA Golden Heart.
Finaling in the Golden Heart is a lot of fun. If you get really lucky you could make a sale! That's just a rumor I heard. It took me FIVE attempts before I finaled for the first time in 2003. Since then I have finaled six times. I've been writing without selling for so long, I need all the motivation I can get.
Once you've made the decision to spend the money, you need to decide how many books you're going to send in. If you're like me and you've been writing for a while, deciding which book(s) to enter won't be easy. IMO, you should send in ANY and ALL finished manuscripts that you think are ready to be published. If you have a manuscript that finaled already, keep entering it! Unless you WIN the Golden Heart, the rules state that you can enter the same manuscript again and again. Some people have a problem with this, stating we need to make room for others. I say forgettaboutit. Until I sell, I'm going to keep on entering. You never know when an editor might finally take notice and you need to take advantage of all opportunities out there. I have a friend who won the Golden Heart in 1999 and just last week she sold that book! That's almost 10 years later. Most people would have told her to shove it under the bed, but she believed in her book. It was just a matter of timing and luck. If we don't believe in ourselves, who will?
If you have ANY questions at all about the Golden Heart, please ask! The Noodlers are here to help you!
Labels: contest, Golden Heart