SHHHH!!!! I'm reading Harry Potter!!!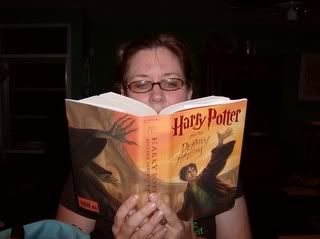 It's 2:30 AM, I just got in from the Harry Potter party. I didn't preorder my book, so I was at the end of a VERY long line. I've never preordered and it's never taken so long! The Boy had fun, though, hanging with his friends, and I met up with a girl from my chapter, and Baby Brother was along. Even though I got a mocha from the Starbucks, I was fading at about 1, and ready to go see if WalMart had the book. But the others convinced me to stay, and I have my book.
We got to the store at 9:30 because they'd said they'd stop letting people in if it got too crowded. We'd gone in at 10:30 AM to get our ticket to stand in line (fat lot of good, the first batch behind the reserved books). They said they gave out 50 tickets for each letter of the alphabet, and first did green alphabet, then yellow alphabet. We were yellow As. We got our book at 10 till 2.
There were a lot of cool costumes, and games for the kids.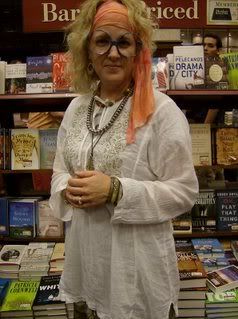 Happy Mommy moment: The Boy, now 16, went down to the grocery store with his friends to get cokes and donuts. He said the store had a measly little table set out, with streamers, and he felt sorry for those kids getting their book there, because they weren't getting the whole experience. So even though it's close to 3 and I haven't even had my bath, I know my son valued the evening.
And he's letting me read the book first!
I know a lot of Noodlers do the parties - share your pictures!
Labels: Harry Potter