Collaging
All this plot talk has me jittery ;) I am a pantser, absolutely. I start with an idea and run with it, until I hit a wall, then I stop. I've tried the index cards, but once I write them, I never look at them again.
So to focus, I make a collage.
I know some people use the organic method, where they just go through a stack of magazines and rip out whatever appeals, then see how things can relate to their stories. They claim to find ideas in this manner, twists to the story that they didn't expect, as if their muse prompted them to tear out those pictures.
I do my collage about half way into the story. By then I have a pretty good idea of who my characters are, but the story needs focus, needs connections, and where the pictures go gives it that connection, gives deeper meaning to the objects I place in the collage. It also helps me sequence the story – what should happen when, what needs to happen before something else can happen.
I always start my story with a physical picture of my hero and heroine, usually based on actors. I print out those pictures, as many as I feel I need, ones I feel fit my characters. For example, I wouldn't get a picture of my heroine/actress in an evening gown unless that character wears an evening gown on some occasion. Gerard Butler in Tomb Raider fit my hero in Beneath the Surface, but his appearance in Reign of Fire fit my hero in Don't Look Back.
Then I think about what's important to the character. Does my heroine have a cherished piece of jewelry? Does my hero have something that reminds him of his family, his past? I google images and print.
I think about what kind of house they live in and search for that. I think about what they drive, where they are. If it's a real place, I find a map so I can reference it while I'm writing. If it's not, I find pictures of what I think the place will be like. I've not yet created my own maps because, well, my class could tell you I can't draw at all.
Once I have my pictures, I buy those science fair display boards (JoAnn Fabric has them for reasonable prices.) I get my glue stick and my scissors and I cut and arrange, then glue. Then I prop my board up to look at while I'm writing.
I've also made some digital collages, though to be honest, I wouldn't know how to do it on a Windows machine. I used to use AppleWorks before the dh upgraded to Leopard, and now I use Pages. Again, I find the pictures, but drag them onto the document. These actually do work well as "book covers" on my notebooks. (I buy the binders with the clear covers and insert my collage, then print out the story to put within – easier to keep track of.)
I prefer the scissors and glue collage, because you have different parts of your brain working on the story as you physically put it together.
Do you collage? How do you do it?
More articles on collages:
Jennifer Crusie
Vision Workshop
My digital collage for my Wayback Rodeo story.
My digital collage for my WIP.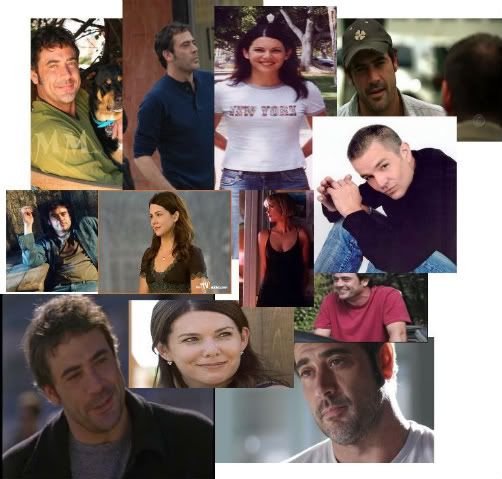 My physical collage for my WIP.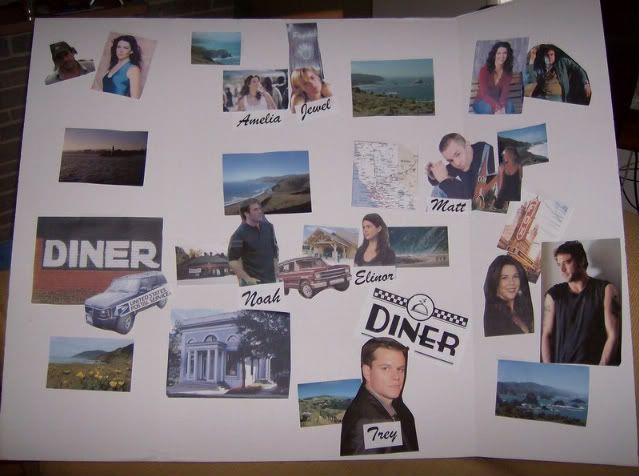 My collage for Hot Shot. I used maps and pictures of Montana and fires to help me focus.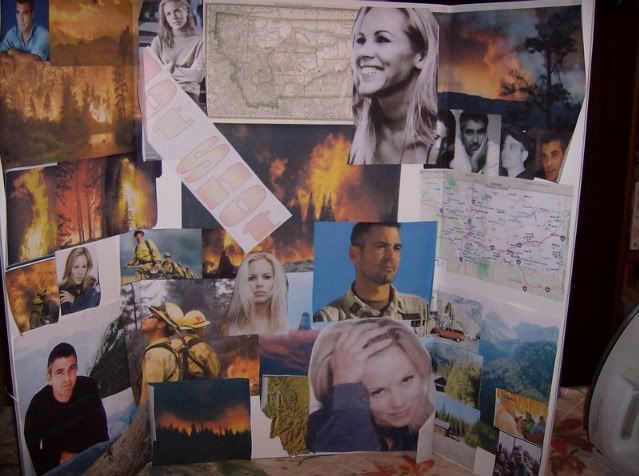 My collage for my 2006 Nano book. I'm hoping it will help me revise. It certainly helped me change who the hero was.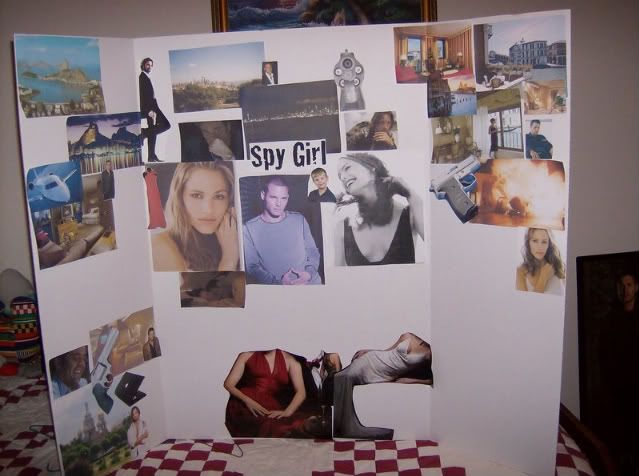 Labels: character development, collage, plotting, writing