Don't Worry, Be Happy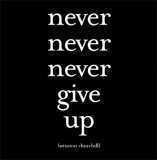 If you didn't final in the Golden Heart, it's understandable that you might be disappointed, but sooner or later you've got to brush yourself off and get back to the computer. Without any revisions at all, that same manuscript could final next year (it's happened to me). Or better yet, you might sell before you ever have a chance to enter the Golden Heart again. If you feel like you're doing everything possible to get published, then let the disappointment and/or frustrations go and keep writing. One of these days it will happen.
"When you get in a tight place and everything goes against you, until it seems as if you could not hold on a minute longer, never give up then, for that is just the place and time when the tide will turn."
–Harriet Beecher Stowe
We've all heard stories about authors who wrote a dozen books before finally selling or who we're about to give up and then got THE CALL the next day. If you keep writing, keep improving, keep believing, keep sending your stuff out there, it could happen to you too. But if you quit, you'll never know.
"We are made to persist. That's how we find out who we are."
–Tobias Wolff
How about you? Do you have any prepublished war stories to help keep us unpublished writers motivated?
Labels: Keep writing, Motivation, never give up