Top Ten Tips for making your Disney World trip smooth...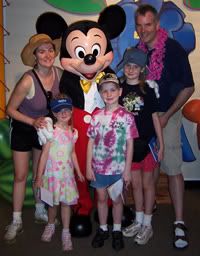 by Colleen Gleason
Every month on
Wet Noodle Posse
, we do a ten tips list. And we do a travelogue. I missed the boat when I forgot to ask Trish, our editor extraordinaire, if I could do one or the other this month, since we were just returning from Disney...so I decided this would be just as good a forum as any.
So sit tight and relax, 'cause, as a Disney World Expert, I'm going to tell you how to make the most of your trip.
1.
Go at the right time.
The
absolute worst
times to visit Disney World (to avoid crowds), are, in this order:
the week between Christmas & New Year's
the week after Easter
July and early August
The best times to visit are, in this order:
First three weeks in December
October, early November
January, early February (before the Spring Breakers hit)
We went the last week of April, and the weather was great and there were few crowds. I've heard May is getting busier, but since most primary schools are still in session, it's not too bad.
2.
If you can, stay on-site at Disney World
It's true; you can get cheap hotel rooms in Kissimmee, just miles away from Disney World, and it will keep your costs down. But in my opinion, part of the experience is staying on-site, and Disney does have different resorts to meet any budget, and they have specials and deals all the time.
The benefit to staying on-site is that you don't have to pay for parking every day (unless you drive), you can more easily get back to your hotel for a mid-day break (see item 4 below), you get to access the parks during Extra Magic Hours--ie, the parks open earlier or later for Disney resort guests only, and, as I said, it's part of the experience.
3.
Get up early
.
Yeah, I know, a vacation is supposed to be relaxing. Well, if you're going to Disney World, you're not going to relax. It's not a kick back and lay on the beach kind of vaca. (If you want that, go somewhere else. Seriously. Save the money.)
If you want to make the most of the parks, and avoid the most lines, you have to drag everyone out of bed early. You have to be at the gates of the parks
before
they open.
For example, on our recent trip, Magic Kingdom (which is the park with Cinderella's castle, and the one that attracts the most youngsters) opened at 9:00 am. We arrived at the park at 8:20. We were one of the first through the ticket machines. Then we saw the opening ceremony. Then we were allowed to go another step further. So, when the ropes inside the park dropped at 9:00, we were already in the park and were able to go on rides immediately, with no waiting, while the rest of the world was just getting to the front of the park.
If you're there when the park opens, you'll get a good 60-120 minutes of no lines, or very short ones. By 10:30 or so, the park will be crowded and you'll start to see things slow down.
Get up. Do it! It will make your experience much better for not having to wait in such long lines in the middle of the blasting Florida heat!
4.
Take a mid-day break.

If you follow my advice about getting to the park early, about the time the lines start to get long and the vendors start to get crowded (about 11-11:30), you'll have experienced a whole lot of the park. We usually head back to our hotel by noon for lunch (shorter lines than in the parks), a swim (it gets hot!!), and a nap (for the little ones).
It works. Everyone is refreshed, we haven't waited an hour to ride Space Mountain, and we're ready to get back to it! By about three o'clock, we're either back at the park or a different one.
Which brings me to....
5.
Make sure you get a ticket that allows you to park-hop.
It makes it a lot easier to plan your days and to take those breaks if you can go from one park to the other.
A lot of people plan one day at one park, the next day at a different park, etc. If you have hopper passes, you don't have to do this, and that means you can flex your schedule to take advantage of being there when a given park is less crowded.
6.
Use FastPasses
.
Disney's invention of FastPasses is the most brilliant thing! It can take away most or all of the stress of your visit!
No one likes to stand in line. Especially in Florida heat. So get a FastPass for anything you can, once the lines start to get long.
A FastPass is a little paper ticket that you can get near the entrance to most of the major attractions at DisneyWorld. The paper ticket tells you what time you can return to the ride, and
go to the front of the line to ride it
. (Actually, you don't technically go to the front--you come in on a different entrance and they merge you with the stand-by line near the front.) The bottom line is, you not only have a specific time to be there (it gives you an hour window), but you get to ride right away.
My rule of thumb is: if the line is longer than 30 minutes, get a FastPass.
Now, you need to know a few things about FastPasses:
Each attraction only gives out a certain number of FPs a day. Once they're gone for that day, they're gone.
If you have a FP in your possession, you cannot get another one for a different attraction until your current FP expires. It will tell you on the bottom of your FP when you can get a new one. For example, you get a FP to ride Splash Mountain between 1:00 and 2:00. You can get another FP for, say, Buzz Lightyear, at 1:05.

You don't need to get a FP if the line isn't long.
Make sure you are staying at the park long enough to use the FP. If you have to leave at noon, don't go get a FP for Space Mountain at 11:00--your FP return time will likely be at least an hour or two later.

7.
Bring your own water.

I carry a water bottle that I keep filled at the drinking fountains. It saves a lot of money, especially since I don't buy drinks with my meals (unless I'm doing a sit-down meal) at the parks. By the time you buy for five people in a family, that adds an extra minimum of $12 to each meal.
Plus, when you're waiting in line, it's great to have that bottle of water. And then you don't have to stop every three feet and wait in line to buy something!
And while we're on the subject of meals...
8.
Share meals

Disney World is not cheap. You're going to pay more for a hot dog than you've done anywhere ever! So, share meals. They are usually generous enough to share, especially the kids' meals.
We have three kids, and we usually order two kids meals and one adult meal and we are all sated. No drinks, as I mentioned above.
9.
Plan ahead.

A lot of people come to Disney World without a plan. They just want to take things as they come; to enjoy the experience.
Well, I contend that in order to really enjoy it, you need to know what's going on first. You need to study the maps ahead of time, plan your days, and know what you want to do and see. You need to get FastPasses, find out when the Extra Magic Hours (ie, times the parks are open late for Disney resort guests), and know where things are.
That doesn't mean you have to have every step planned--although some people do, and that works too. It just means you have to be familiar with the parks before you arrive, at the very least. Don't wait until you're standing on Main Street in Magic Kingdom at 10am before you decide you want to head to Adventureland before you go to Tomorrowland.
Doing that will just lead you to long lines, criss-crossing the park dozens of times, and cranky kids and frustrated adults. Trust me.
I also suggest buying a book about Disney World--or checking it out from the library--before you go. You'll get more insider tips than I've got room for here.
There are also some great Web sites that have up to date info on them:
Allearsnet.com
Mousesavers.com
WDWinfo.com
10.
Have fun. Do stop and smell the roses.
If you take my advice, you'll have a much more relaxed time and you'll see more of the parks. We usually like to hit the parks hard and early the first two days or so that we are there...and then for the rest of the time (the two or three more days we have left), we take it easy and just let things happen.
Let the kids stop and watch the parade (you can do that on the third day, 'cause you've already ridden most of the rides because you haven't waited in long lines because you've followed my advice!). Let them get in line to see Mickey for the fifth time. Let them wander through the shops in France at Epcot.
Good luck! Let me know how it goes!
I'd like to hear about any other tips you have for visiting Disney--or any other major tourist attraction! Experiences and anecdotes about what worked for you and what didn't!