A Wedding in China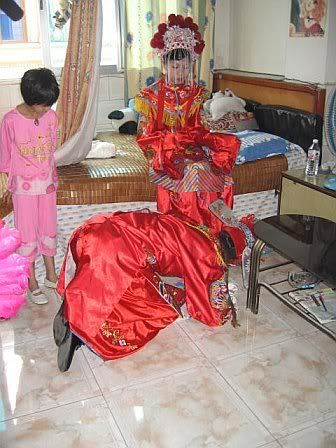 My nephew, Adam, has always had a fascination with Asian culture. When Adam was little he told everybody he wanted to be a monk when he grew up. By the time he graduated from Lewis and Clark with a degree in Asian Studies, he could speak Chinese and Mandarin. Soon after, he moved to Guilin and opened a bar and a school of Modern English. On October 1, 2006, Adam married Lin Fang, a beautiful young woman from Guilin whom he has been dating for about four years. A total of sixty friends and relatives attended, including my four sisters, my husband, my youngest daughter and me. According to Adam, it was the most foreigners the city of Li Pu had ever had visiting at one time. We were followed by news reporters for most of the trip. The wedding parade and wedding ceremony was held in Li Pu (a few hours from Guilin) where Adam's wife grew up. The wedding ended up being shown on three different news stations and the bride's parents and relatives have since been hounded by paparazzi.
During our stay in Guilin we took a five-hour boat ride down the Li River from Guilin to YangShuo where we spent the day shopping. We also visited LongSheng and spent the day exploring a small mountain village surrounded by beautiful rice terraces. We traversed through the FengYu Cave, one of the largest caves in Asia. I feel unbelievably lucky to have had the chance to get up close and personal with the wonderful people of Guilin. I can't wait to return some day and see more of China. My daughter feels the same way. It was an experience we will never forget.
The photos above show Adam dressed in chinese wedding attire in the middle of the crowded streets in Li Pu as we headed for the bride's house where he must find her slippers in her room before he can marry her.