A Grinch Stole the Toys For Tots
by
Colleen Gleason
Diane Perkins' wonderful
list of things to do to keep the holiday easy
included the #1 item of:
doing something for someone else
.
Unfortunately, some crazy person (persons?) decided to help themselves to twenty bags of toys that had been collected for Toys for Tots near my hometown.
Unbelievable.
This year, the Toys for Tots campaign is having a lot of trouble getting donations...and now it's become even worse.
So, if you can, even if you don't live near me :-) please help them out. Get an extra toy when you're shopping for your loved ones and drop it in the TfT box.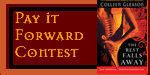 And also...check out my
Pay it Forward contest
all week on my blog and get a chance to win a cool prize (at least, I think it's cool!) by doing something nice for someone!