Awww, it's a baby
Hey, everyone--I'm a grandma! Or a nana, to be precise.
Here's a peek at Ashley when she was three days old, posing with her mom and dad.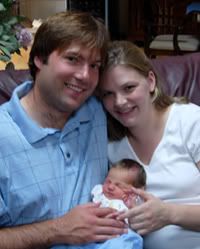 I'm already discovering how nice it is to be a nana. So far I've been visiting with her and snuggling with her and all that fun stuff--and no one has asked me to change a diaper yet.
I have to admit I wasn't psychologically prepared to be a nana. I don't feel old enough yet. But I'm glad I'm old enough to babysit.